IR Flame Sensor 3 Pin Module in Pakistan
IR Flame Sensor 3 Pin Module in Pakistan
IR Flame Sensor, A Flame Sensor module or Fire Sensor module is a small size electronics device that can detect a fire source or any other bright light sources. This sensor basically detects IR (Infrared) light wavelength between 760 nm – 1100 nm that is emitted from the fire flame or light source
IR Flame Sensor, A Flame Sensor module or Fire Sensor module is a small size electronics device that can detect a fire source or any other bright light sources. This sensor basically detects IR (Infrared) light wavelength between 760 nm – 1100 nm that is emitted from the fire flame or light source. The IR Flame Sensor comes with a YG1006 Phototransistor sensor which is a high speed and high sensitivity. Two types of IR Infrared Flame Sensor Module available in the market one having three pins (D0, Gnd, Vcc) and another one having four pins (A0, D0, Gnd, Vcc) both are can be easily used with Arduino and other microcontroller boards.
IR Flame Sensor, Flame Sensor Module Fire Sensor Module infrared Receiver Ignition source detection module This tiny Flame sensor infrared receiver module ignition source detection module is Arduino compatible can use to detect flame or wavelength of the light source within 760nm~110Onm also useful for Lighter flame detect at the distance 80cm. Greater the flame, farther the test distance.
It has the Detect angle of 60 degrees and very sensitive to flame spectrum. It produces the one channel output signal at DO terminal for further processing like an alarm system or any switching system. The sensitivity is adjustable with the help of blue potentiometer given on the board.
these modules have a major difference, that is one module is consists of 3 pins(D0, Gnd, Vcc), and it's can able to provides only Digital Output. Another module is consists of 4 pins((A0, D0, Gnd, Vcc) and it's can able to provide Digital Output and Analog Output.
3 Pins IR Flame Sensor
| | | |
| --- | --- | --- |
| Pin Number | Pin Name | Description |
| 1 | VCC | +5 v power supply |
| 2 | GND | Ground (-) power supply |
| 3 | OUT | Digital Output (0 or 1) |
IR Flame Sensor Hardware Overview
4 pin and 3 pin sensors are consist of the same components. The key components of these sensors are YG1006 NPN Phototransistor, LM393 Comparators IC, Variable Resistor (Trim pot), Power LED, Output LED.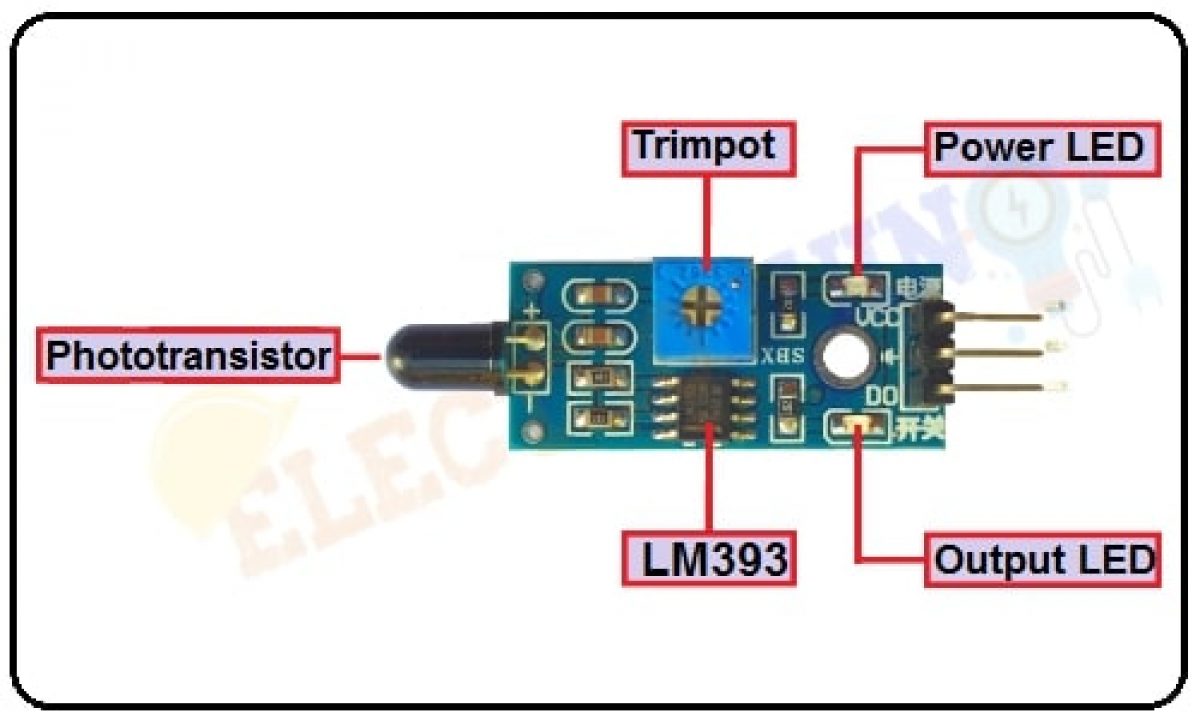 YG1006 Phototransistor
YG1006 Phototransistor is a 5mm NPN Transistor. The Phototransistor is coated by black epoxy, which makes it sensitive to infrared radiation. But, it looks like a two-terminal block LED from the outside. It is used to sense flame or light in a range of 760 nm – 1100 nm wavelength. This sensor is consists of two terminals, where the long terminal is the Emitter and the shorter terminal is the collector. It has no base terminal like other transistors, when it detects light then the current starts to flow between emitter and collector.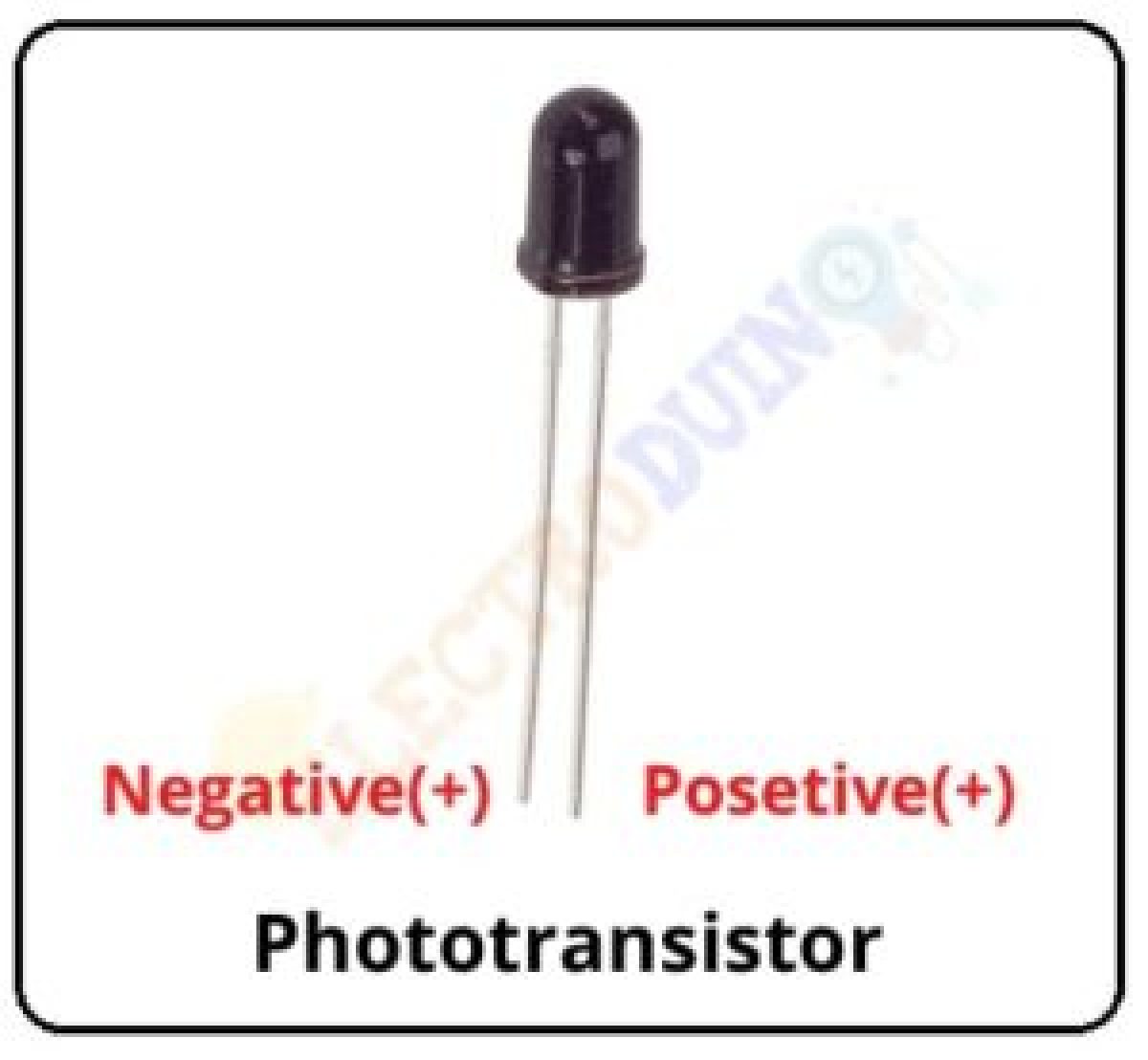 IR Flame Sensor Specifications
| | |
| --- | --- |
| Parameter | Value |
| Operating Voltage | 3.3V – 5V |
| Operating Current | 15 mA |
| Comparator chip | LM393 |
| Sensor type | YG1006 Photo Transistor |
| Sensitivity | Adjustable via potentiometer |
| Output type | Digital output / Digital and Analog output |
| LED lights indicators | Power (red) and Output (green) |
| Spectrum range | 760nm ~ 1100nm |
| Detection angle | 0 – 60 degree |
| Operating temperature | -25℃ ~ 85℃ |
| PCB Size | 3cm X 1.6cm |
IR Flame Sensor Application
Fire detection
Use in Fire fighting robot
Fire alarm
Variable Resistor (Trim pot)
This IR Flame Sensor  has an onboard variable resistor (potentiometer), this is a 10k preset. Rotate the preset knob to adjust the sensitivity of fire detection. If the preset knob rotated clockwise, the sensitivity of the Flame sensor will be increased. If it rotated counterclockwise, the sensitivity of the Flame sensor will be decreased.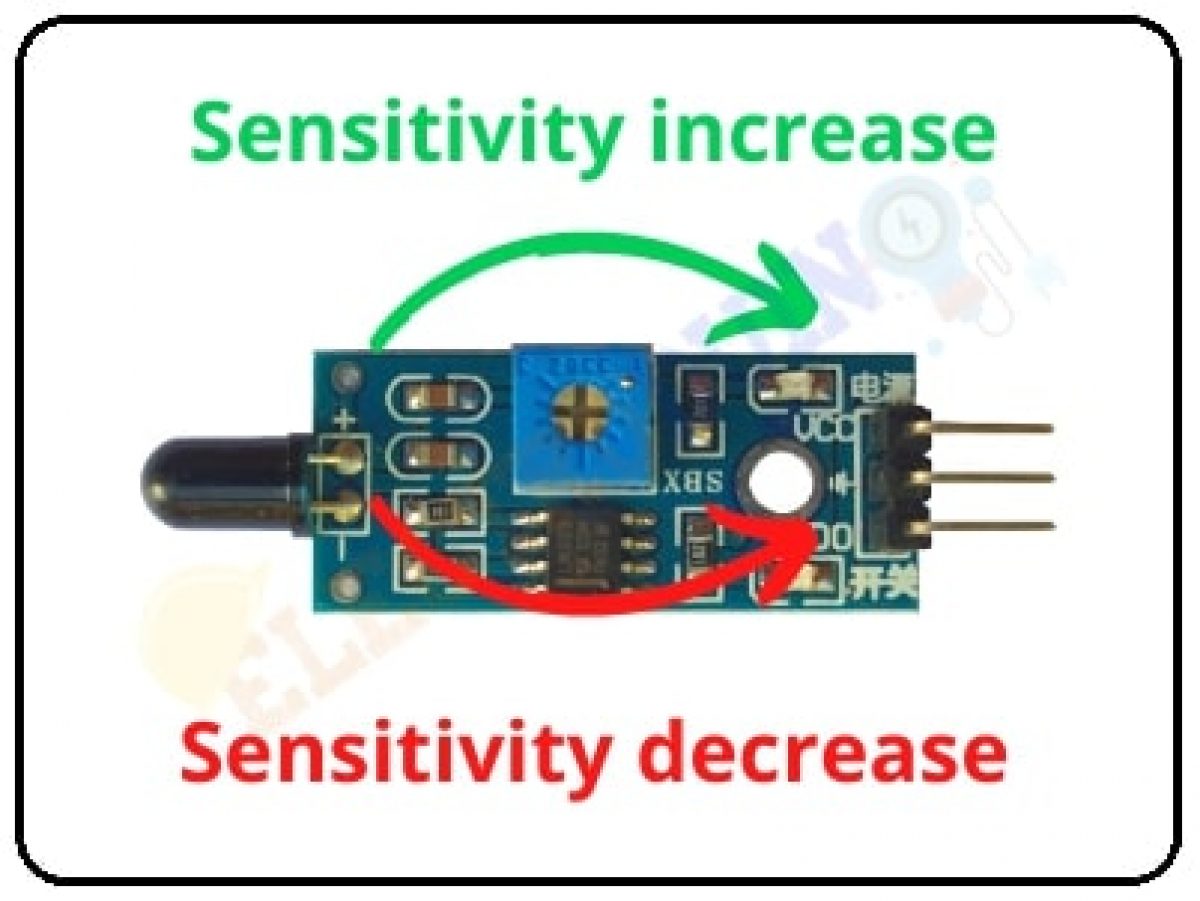 Power LED
This onboard LED indicates the flame sensor's power supply is ON or OFF. When we will connect the power supply to the IR Flame Sensor, this LED is also turn on.
Output LED
When the sensor detects the fire, the Red LED is turn on. When it does not detect any fire or flame source, the Red LED is turn off.
Related Products at majju.pk
majju.pk/…tronics/sensors/obstacle-sensor
Vendor Information
Store Name:

sherjaan

Vendor:

sherjaan
Address:

No ratings found yet!
IR Flame Sensor 3 Pin Module in Pakistan